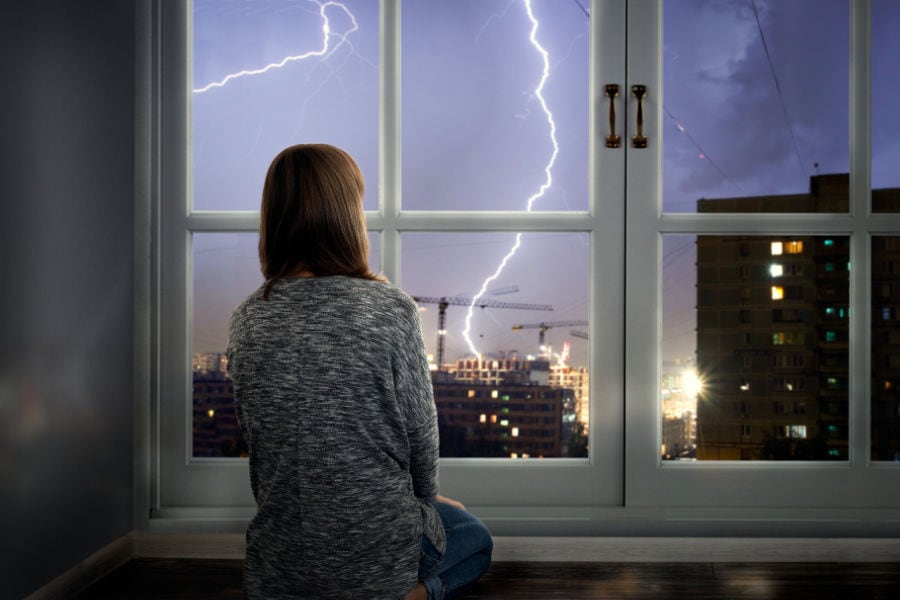 We have all been there. A power outage during the most inconvenient times in our lives. It is an unfortunate part of being an Ohio homeowner.
Power Up When the Power Is Down
Whether it is a massive storm, faulty wiring, or simply blowing one too many fuses, having a portable generator on hand is a smart and quick way to restore your power before calling one of our Airclaws experienced professionals to provide an assist.
When these unpredictable outages hit, it is important to take preventative measures when trying to get your power back on. Follow a few of our precautionary steps when hooking up your portable generator to get it running safely.
Set Up in a Safe Location
Be conscientious about where you locate your generator. Adequate space for your running generator is essential. All too often, tragic carbon-monoxide poisonings due to inadequate ventilation occur. This real danger can be avoided.
Although your basement, attic, or garage may be your preferred space for your generator, it is imperative to keep your portable generator outdoors and at a recommended 20 feet from your Ohio home. An ideal location would be on a concrete driveway or patio, or on a level patch of grass to ensure maximum efficiency.
It is also a good idea to purchase a tent or cover for your generator to prevent damaging exposure to inclement weather, such as rain or snow.
Use a Removable Console Instead
A removable console is a generator component designed to handle the electrical load coming from your generator. It is connected to your generator via a long, heavy-duty cord made for indoor use. By using the console you avoid using extension cords when you connect your appliance to your generator. Why is it important to avoid extension cords? Read on.
A pinched or punctured cord in doorways or tight spaces is a major hazard when trying to connect your generator to your appliances. Using extension cords can cause your generator to overload and break down.
Additionally, never make your own extension cord for use with your portable generator. Hooking up a cord with double-ended prongs to the generator and an outlet may sound like a quick and easy fix, but it is also extremely perilous.
According to standard electrical practices recommended by the National Electrical Contractors Association (NECA), never resort to backfeeding. This is the dangerous practice of connecting your generator to an outlet—routing the generator's electricity to that outlet's main circuit breaker to distribute the power to other parts of your Athens home. Backfeeding creates extremely high voltage on that particular circuit, and a professional power lineman can be seriously injured or even killed in the midst of a repair.
The removable console is a simple solution to these electrical dangers. Plugging your appliances into the removable console instead of your generator is a much safer practice.
Choose the Right Cord If an Extension Is Unavoidable
If you must use an extension cord, we suggest using your generator's manual to determine which type of cord is best for carrying the powerful load of your equipment.
Be smart, and do not run the cord under carpeting, rugs, closed doors, or other confined spaces in your Athens home. You will also want to stay away from damaged, worn, or undersized cords to get the best use out of your generator.
Remember, extension cords are only recommended if you do not have a removable console or one that will not allow you to hook up all the appliances you need to use. Also note you should use a different extension cord for each device and keep a close eye on your running generator to avoid overheating or potential fires.
Get in Touch With Airclaws for Your Generator Needs
For more information on generators, including how to run them safely and efficiently in your home, contact Airclaws in Athens, OH. Do not hesitate to give us a call at 740-448-7278 or request service online to schedule your repair or maintenance service on your generator today.
Contact the experts!
---
Airclaws services Athens, Belpre, Logan, Nelsonville, Pomeroy, Marietta, Albany, Amesville, and the surrounding Ohio communities with their heating and cooling needs. Visit our service area page for more coverage details, call us at 740-448-7278, or request service online today.