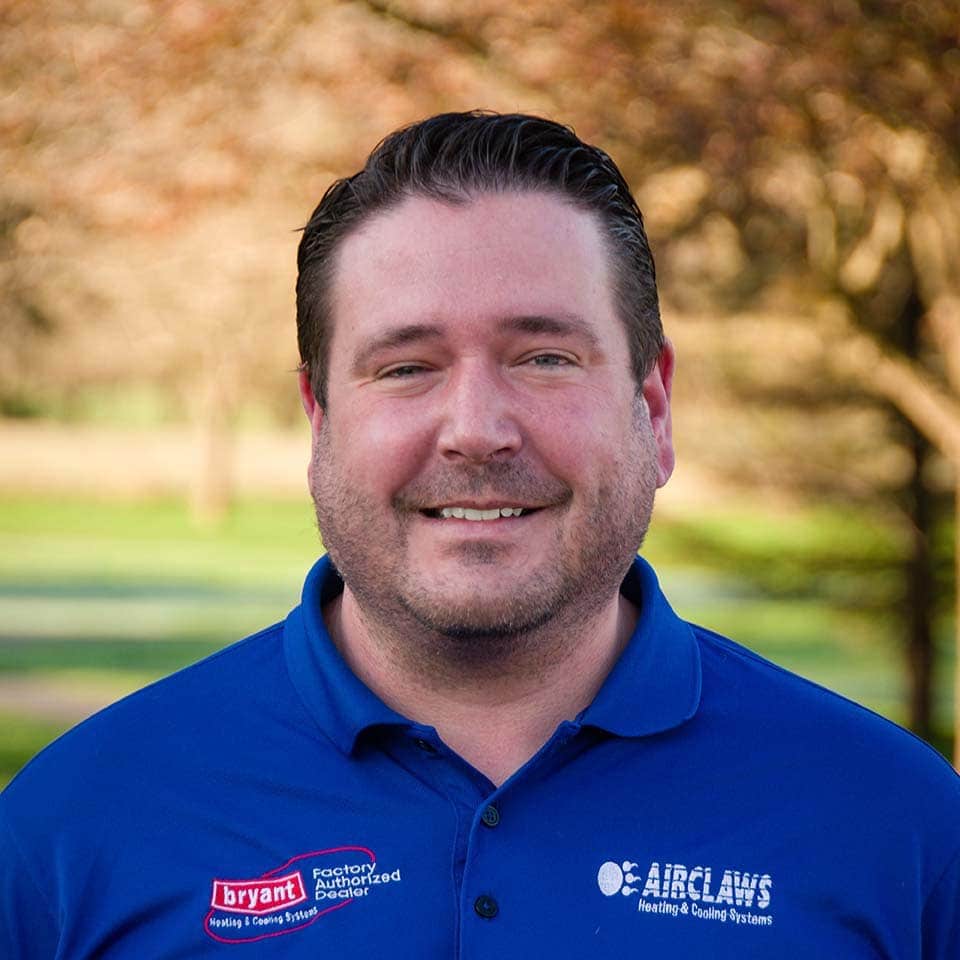 Ryan Tevis
Home Comfort Specialist
Ryan began his HVAC career while he was attending Federal Hocking High School and is now a proud member of our Sales Team at Airclaws. His favorite part about his job is problem-solving and coming up with energy-saving solutions. He is constantly found mentoring his co-workers and providing support by delivering parts, installing a system, or taking a phone call to help guide someone through a problem.
Ryan has lived his entire life in Southeastern Ohio and currently resides in Athens with his fun-loving wife, Annie, and their snack-loving dog Beans. He enjoys playing guitar, reading, listening to music, and watching sports. If you know Ryan, you know his favorite pastime is listening to the Dan Le Batard Show and a recent episode is bound to be brought up in conversation.
Gas Furnace Installation in Athens, OH 45701
"Our 40+ year old furnace died on a Wednesday and with cold temperatures forecasted for the weekend I was frantically looking for replacement options. By the end of Wednesday Ryan Tevis had come to my house, discussed my needs, took measurements and provided me multiple options that could be installed by Friday. I chose an option Wednesday night and the equipment was ordered Thursday. Friday morning Shawn and Caleb showed up and started removing the old equipment. By 11:30 am the new equipment had arrived and been brought over. By the end of the day my new furnace up and running and we had a comfortable weekend. Monday morning Shawn arrived and promptly installed the heat pump, cleaned up the work site and showed me how to run the fancy thermostat. Everyone was so knowledgeable, professional, friendly and worked great as a team. The entire install was done before other companies could even get me a quote and I could not be happier."
- John D.
Heat Pump Installation in Laurelville, OH 43135
"Our heat pump went out in our cabin. We called AIRCLAWS and they came out quickly and installed a new heat pump. They did a fantastic job and we had great communication from sales to installation! Extremely happy with our new system – we would highly recommend this company for any heating and cooling needs!!"
- Karen S.
Heat Pump Installation in Athens, ST 45701
"New heat pump installed with precision. I do not know the names of the people who did the work, but they did it very well. Air Claws team did the work with thoughtfulness for us as well as fine competence. People at the office were equally as good."
- David H.
Gas Furnace Replacement in Other, ST 43782
"Airclaws done an outstand job of completely replacing my 40+ year old gas furnace and adding the Bryant Air Purifier unit. In addition to that, they also added a new central air system that I didn't have before. The installers arrived right on time and had everything done in one day and everything looks and works great. Both installers were very friendly and professional. Overall Airclaws is a wonderful company to work with and I would highly recommend them to anyone looking for HVAC needs."
- Jesse H.
Gas Fireplace Repair in Other, OH 45716
"I had an outstanding experience with Airclaws. The technician is very knowledgeable, professional acting and also has a very professional demeanor and appearance—personality plus. I was able to get an appointment the day after I called Airclaws. The technician was very prompt and efficient. He found the problem and by the time he left my house, my furnace was working well. Thank you for such a positive experience."
- Teresa D.
Gas Furnace Replacement in Amesville, OH 45711
"Ryan and his team were able to diagnose the problem with my furnace. They helped me weigh the options of repairing versus replacing. They laid out several options for us and we ended up choosing replacement. They were even able to install it the next day! Thank you all for great customer service."
- Chris S.
Dehumidifier Installation in Athens, OH 45701
"I want to thank Airclaws for helping me solve a humidity problem in my house, which was beginning to ruin my furniture, framed pictures, and books. Ryan Tevis persevered in finding an appropriate model, one that could be connected to my furnace and thus work as a whole-house dehumidifier. When they realized that it wouldn't fit in the closet where the furnace was, they worked out an attractive solution which required them to re-do the door and the frame of the closet. Airclaws is committed to doing a superior job and is open to creative solutions."
- Christine F.